Discover AquaGold
AquaGold® is the most effective micro-channeling mesotherapy delivery system available.
AquaGold® fine touch™
 is a gold-plated, hair-fine needle system used to painlessly treat various minor imperfections on the face, neck, or décolletage. 
AquaGold's 

delicate touch™

needles are finer than a human hair.
With AquaGold,
 mesotherapy treatments such as BOTOX® Cosmetic, Juvéderm® dermal fillers and serums are painlessly applied into the skin through micro-channels in the needle.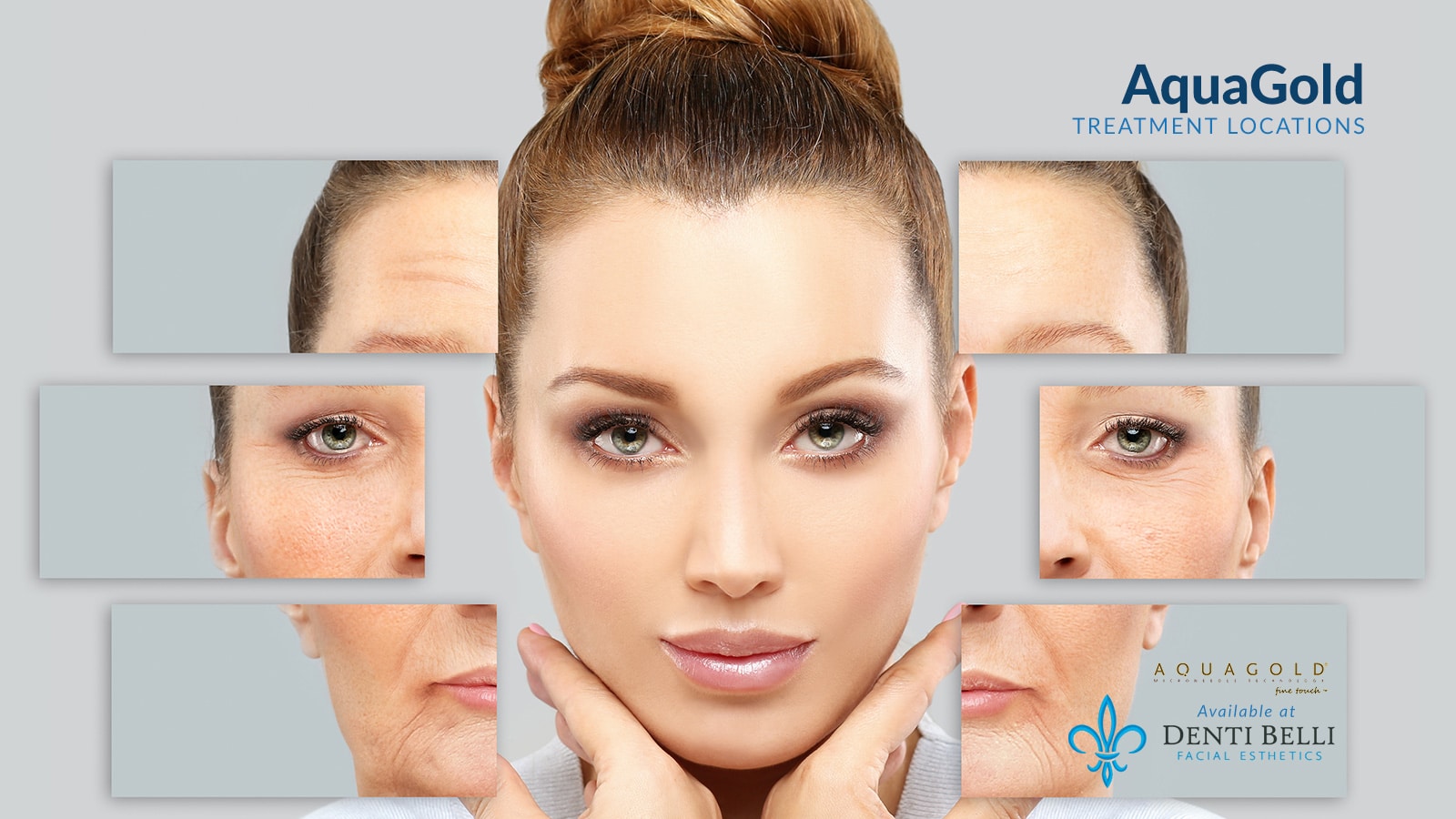 What is AquaGold®?
AquaGold® fine touch™
is a 24K gold-plated, hair-fine needle injection system that painlessly delivers custom treatment solutions into the skin at the ideal 600-micron depth to reach the dermis. This innovative device uses patented micro-channel technology to administer customized solutions into the skin. Tiny doses of dermatology treatments such as BOTOX® Cosmetic, Juvéderm® dermal fillers and serums can correct a range of concerns for a natural and refreshed look. Your entire treatment takes less than a half-hour and is painless.
How AquaGold Works
The AquaGold fine touch device administers refining and anti-aging formulas painlessly and at a consistent depth. This can be more advantageous than using a syringe. Sometimes, the full FDA-approved dose of a product is not necessary. Micro-doses are appealing because they create a fresh, natural, and rejuvenated outcome. It is important to know that AquaGold fine touch is different than
microneedling
devices, which work by wounding the skin to stimulate rejuvenation.
AquaGold fine touch
does not damage the skin and is painless and bleed-free.
How Can AquaGold Benefit You?
If you've noticed that your skin doesn't look as healthy and vibrant lately,
AquaGold fine touch
treatments can help restore the youthful appearance of aging faces. Combined with traditional injections, these non-invasive procedures have been shown to minimize deep lines and significant volume deficiencies for a more natural-looking finish that is both beautiful but also unassuming – like an old friend who knows not to overshadow anyone else in the room. In addition to smoothing and toning skin texture,
Dr. Michele Taylor
can use
AquaGold fine touch
to treat a wide range of cosmetic concerns including:
Large pores
Uneven skin texture
Fine lines
Mild to moderate wrinkles
Superficial acne scars
Dull or lax skin
FAQs About AquaGold
Have questions about receiving your treatments with AquaGold? 
How much are AquaGold® treatments?
Each specific treatment application will be tailored to meet your exact requirements. During your complimentary consultation, the doctor will go over pricing with you.
Is AquaGold harmful?
The operation is quick and painless, and there is no downtime. You may see a small amount of temporary redness that may be concealed with make-up.
Am I a good candidate for AquaGold treatment?
AquaGold® fine touch™ is appropriate for virtually all ages, skin tones, and skin types. It may be right for you if you want to improve your appearance, but do not require dramatic changes. It can treat very fine lines and minor skin imperfections over a wide treatment area. Please schedule a consultation with Dr. Taylor to see what treatment is right for you.
What areas does AquaGold treat?
Treatment areas can include around the mouth, around the eyes, the forehead, the back of the hands and the décolletage.
Does it hurt?
No. AquaGold treatments are painless and do not damage the skin.
When will I see results from treatment?
AquaGold® fine touch™ is a delivery system, so your results will depend on the original condition of your skin, your skin care goals, and the type of product used in treatment. Before your first procedure, we can give you an estimate on how long it will take for you to see results and how many repeated treatments you'll need to achieve your desired look. We recommend scheduling any follow-up treatments or evaluations prior to leaving your first appointment to ensure the best results.
How long will results last?
In general, AquaGold® fine touch™ results tend to last three to four months. However, every patient is different. You can return for regular treatments to maintain your refreshed appearance.
Why Choose Dr. Michele Taylor and Denti Belli?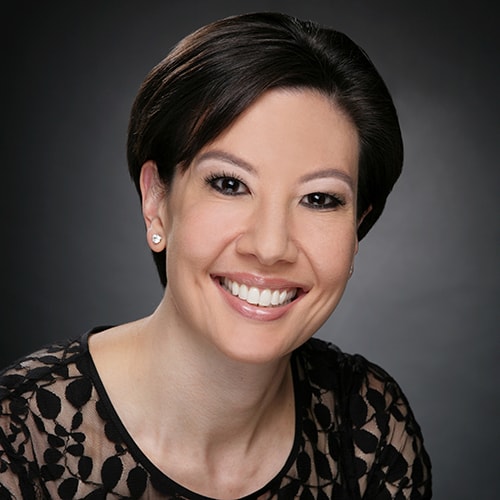 She's Specially Trained To Apply Treatments with AquaGold
As a dentist, Dr. Taylor is trained in understanding your facial areas and musculature. She administers and is proficient with anesthetics because she does this on a daily basis. Dr. Taylor is the master at making your injections comfortable, quick, and relatively painless for you.
On top of that, Dr. Taylor is specially trained to utilize BOTOX®, Kybella®, Juvéderm dermal fillers, and PDO threads to enhance your dental treatments, including anyone having trouble adjusting to dentures, lip augmentation, and orthodontic cases where retraining the facial muscles is necessary.
Other healthcare providers are not as experienced or qualified to administer injections nor do they understand your facial features. They also cannot treat the full range of areas that dentists can.
Dr. Taylor is also an Associate Member of the American Academy of Facial Esthetics (AAFE).
It's the Perfect Secret
Most people don't want the world to know they are going to the dermatologist or plastic surgeon for a little work. By giving you access to this cosmetic option at our practice, you can simply tell people you're going to the dentist. You'll have beautiful, immediate results, but nobody has to know you received injections.
You'll See a Familiar Face
Instead of having to build trust with another healthcare provider, you'll see our familiar faces from start to finish. We work hard to make sure you're comfortable with your dental experience, and it's important to us you love the results.
All Services All Under One Roof
What could be more convenient? We have everything you need to achieve the smile and look you've dreamed of. You can complete BOTOX and Dermal Fillers with routine and specialty dental services.
What Others Say about Denti Belli
"I had my first visit with Dr. Taylor and I have to say, it was the best dental experience I've ever had! I've never been too fond of dentists and I was a little nervous at first, but her kind support staff put me at ease…
Dr. Taylor was very kind, gentle and efficient!"
Schedule Your Appointment With Denti Belli Today
We Are Fully Open for All Dental and Facial Esthetic Services!
We are following the CDC guidelines to ensure the safety of our patients, our team, and our community while also preventing the further spread of the COVID-19 virus. Request an appointment or give us a call at 425-226-2684 and discover the Denti Belli Dentistry difference.